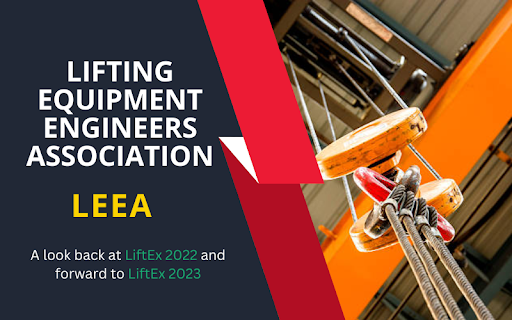 Lifting Equipment Engineers Association (LEEA) is the leading trade association for all those involved in the lifting industry worldwide. Since its foundation in 1944, the LEEA Association has been involved with all aspects of this specialised field: from training through to health and safety—providing technical advice as well as legal support.
LEEA has been recognized as a credible global trade association by the lifting industry, recognizing all companies involved in the design and fabrication of machinery used in lifting operations around the world.
The association has played a pivotal role in this technical field for over half a century, from training and setting through to health and safety, the requirement of technical and legal guidance and the development of examination and licensing systems. LEEA has members in over 85 countries and has representatives at government levels as well as nationally and internationally recognized professional bodies.
Many business organizations make use of the Lifting equipment Inspection Software to optimize all their lifting inspections and certifications according to LOLER and LEEA.
Sector: Machinery
Website: http://leeaint.com/uk/About-Us
Year Established: 1944
LEEA Certification Courses
This course aims to provide the Equipment end user and managers hands-on training in lifting accessories that they will be anticipated use within lifting operations.
Some of the LEEA Certification Courses offered by LEEAINT are
Details about LEEA training courses, which concentrate on the thorough examination of lifting equipment can be obtained from their Official website
Also Read more on What Must be Done Before Using A Forklift?
Some of the LEEA Accredited courses offered by various Organizations are
Master Rigger
Intermediate Rigging
Basic Rigging & Inspection
Rigging Gear Inspector I/II
Rigging Gear Inspector II
All curriculum within the Fundamentals of Rigging Engineering Program is LEEA Accredited including the subsequent course titles:
Principles of Rigging Engineering
Crane & Derrick Engineering, Installation & Planning
Rigging & Load Handling Equipment Engineering & Applications
Alternative Load Handling Equipment Engineering & Applications
Lift Planning Procedure, Considerations & Execution
Specialized Transport Planning & Engineering Considerations
Standards & Regulations for Load Handling Equipment
How To Obtain LEEA Certifications?
Are you qualified?
To join LEEA as a member, your business or organisation must
Be engaged in the lifting equipment industry
Be formally enlisted as a business and trading for at least 12 months since registration
All facets of training delivery and assessment processes will be audited during an initial desktop assessment and an ensuing visit to guarantee that the correct information is provided in suitable ways. LEEA ATS members are occasionally audited to ensure consistency and quality.
If your company is not qualified, you can still access their training courses by registering with them as an Individual Trainee – https://leeaint.com/individual-trainee
Read more on Thorough Examination of Lifting Equipment
What services does LEEA deliver?
The association has played a pivotal role in this technical field for over seventy years, key services they are involved in are:
– Training Services
– Technical Support
– Official Industry Representation
– Resources and Info
– Promotional and Networking Opportunities
– Member Engagement
LEEA designates members at the highest levels across a range of both public and private bodies, including various government departments, as well as nationally and globally recognized professional and technical institutions.
Read more on LOLER Regulations | What does LOLER Stands For?
Why use an LEEA Accredited member?
– Compliance with legislations, wherever you are in the globe.
– Competency of personnel for the design, manufacture, maintenance, testing and examination of lifting equipment
What is LEEA Course?
This course will provide Learners with the knowledge, experience and practical skills in lifting and slinging loads, to encourage them to become riggers / slingers in the construction lifting industry.
What is LiftEx?
LiftEx is an unmissable global event for the lifting industry; nearly 100 exhibitors, and over 1,500 industry professionals attend, 2 days of knowledge sharing and training, as well as the renowned LEEA Awards.
LEEA AWARDS 2022
Honoring Standards!
As the enormous Trade Association in the Lifting Industry, LEEA likes to reward members who have done the most to expand standards.LEEA members who have accomplished the most to raise standards have the chance to enter the Awards and be recognized as among the most profitable companies in the industry by their peers and their customers. Prizewinners gain an extraordinary chance to raise their profile as successful businesses and become head in that category, with the Awards Dinner delivering an excellent setting for members to reward their teams and honor their accomplishments.
Their awards scheme gives their members 11 distinct categories to which they can apply. Winners have been announced during the LEEA Awards Ceremony at the P&J Live arena at The Event Complex Aberdeen on the evening of Wednesday 5th October 2022.
Why Apply For LEEA Awards?:
Be recognized as among the most promising companies in the industry by your fellow members and your customers
Obtain useful editorial coverage in the Lifting Engineer Publication both in print and online
Expand your profile as a triumphant business leading in your award category
Reward your teams and celebrate your accomplishments at LEEA prestigious Dinner Award
Gain acceptance from an independent panel of industry experts
Receive the award instantly from LEEA celebrity speaker
LEEA established online courses on lifting equipment – Academy 2.0 Project
All courses will be obtainable on LEEA's new e-Learning platform which is appropriate for any device and has an offline study ability
A unique suite of training courses will be undertaken, over the next six months by the Lifting Equipment Engineers Association (LEEA), as part of the Association's Academy 2.0 Project.
According to the association, EUG (End User Guidance) will be the foremost course to arrive, on 7 July 2022, which is also Global Lifting Awareness Day. The course will be obtainable worldwide via LEEA's website, leeaint.com, as an open link. On the same day, the ILE (Introduction to Lifting Equipment) course will be open to LEEA members in the 'Members area' of leeaint.com. Additionally lifting courses will also be made available to subscribed members in August and September 2022.
A look back at LiftEx 2022 and forward to LiftEx 2023
LiftEx, the flagship event of the Lifting Equipment Engineers Association (LEEA), was held on (5-6 October 2022) at P&J Live in Aberdeen, honoring the successes and triumphs of the lifting industry.
The event provided attendees with an opportunity to learn about lifting-related services, products, and insights. Also on 5 October 2022, P&J Live hosted the fourth annual LEEA Awards Ceremony – also known as the 'party of the year'.
LiftEx 2023
The LEEA is pleased to announce that LiftEx 2023 and the 5th Annual LEEA Awards will be held at the Exhibition Centre Liverpool on November 21 and 22.