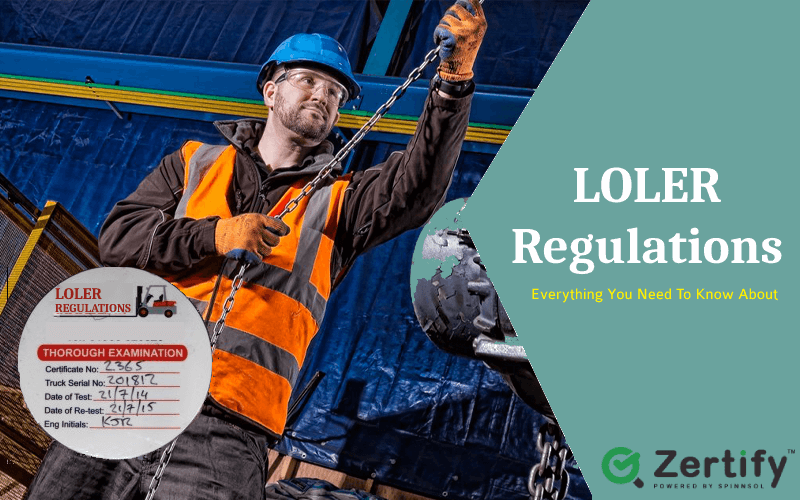 The diverse rules and regulations that use for lifting equipment can often be confusing, even for those with years of knowledge in the TIC industry. The main offender in this example is LOLER, which, due to its depth of detail and the extensive range of equipment it covers, can cause even the most knowledgeable to become perplexed. Here we will be discussing about LOLER Regulations as well as what does LOLER stands for!
What does LOLER Stands For? – A Complete Loler Regulations Manual
The acronym LOLER stands for Lifting Operations and Lifting Equipment Regulations 98 which is oftentimes referred to as the LOLER regs or LOLER 98 regulations which is the UK Government's official regulation for people and businesses who hold, operate or have authority over, all types of lifting equipment.
It falls under the Health and Safety at Work etc Act 1974 and it's in place to guarantee that all lifting equipment is suitable and safe for use. Many business firms make use of the Lifting equipment Inspection Software to optimise all their lifting inspections and certifications according to LOLER and LEEA standards. The LOLER regulations came into act on 5th December 1998.
The 17 regulations of LOLER apply to all lifting equipment in the worksite, whether it is employed to lift loads or people. All sectors of industry are involved by LOLER.
Read more on Top TIC Companies – Growth In Testing Inspection & Certification Industry
Lifting Operations and Lifting Equipment Regulations
LOLER regulations mandate that all lifting operations must be adequately planned by a skilled person, as well as properly supervised and taken out safely. This means that workers must be suitably trained to use lifting equipment, sites should be precisely inspected and any work must be scheduled thoroughly by somebody with relevant experience and knowledge before any lifting process takes place.
The Lifting Equipment Operator or Forklift Operator needs to possess a Forklift Operation Certification to carter or lift heavy materials on the worksite.
In complement to the planning and supervision of lifting operations, LOLER demands that all equipment used for lifting is regularly maintained, inspected and properly marked to demonstrate that it is fit for purpose. In many such circumstances, this involves frequent thorough examinations and inspections, where lifting equipment is inspected by a 'Competent Person' for any faults. These are then reported to the person liable for the equipment and conceivably the appropriate enforcing authority, depending on the defect.
How Frequently Must Lifting Equipment And Accessories Be Thoroughly Examine?
Before operating it for the first time, unless the equipment has an EC Declaration of Conformity slightly less than one-year-old and was not assembled on site. If it was assembled on site, it must be inspected by a competent person to induct the assembly was right and safe, For example – A platform lift installed in a building.
Make sure always have lifting equipment thoroughly examined following 'exceptional circumstances, e.g. if it is damaged or fails, is out of use for prolonged periods, or if there is a significant change in how it is employed which is likely to affect its integrity.
Regularly in service if the equipment is exposed to conditions inducing damage that is the potential to result in dangerous circumstances. If this applies to your equipment you have a preference, you can place for the thorough examination to be carried out (a) at frequent intervals (either at least every 6 months or 12 months depending on whether the lifting equipment is for lifting people or not) or (b) in agreement with an examination scheme drawn up by a competent person.
Do I Need To Maintain Records?
Yes, of course, you must maintain records of all thorough examinations and inspections for all your lifting equipment. The competent person undertaking your inspections under the conditions of LOLER must supply you with a written report of a thorough examination and any inspections or tests they do. The report will determine if there are flaws and what you must do to put them right.
Keep track of your customers' asset inspections, and thorough examination reports, with the aid of Digitalized Zertify Software.
Which All Lifting Equipment Are Covered By LOLER?

The LOLER regulations shield any lifting equipment used at the workplace, however, some equipment is not supposed for lifting equipment and nor subject to LOLER's specific requirements but when used at work the Requirements and Use of Work Equipment Regulations (PUWER) are still involved.
Here we will be considering the Lifting equipment covered under LOLER including:
Cranes
Workplace passenger and goods lifts
Construction hoists
Dumb waiters
Scissor lifts
Vehicle tail lifts
Telehandlers and industrial lift trucks
Bath hoists
Ropes used for climbing or work positioning
Eyebolts
Shackles
Hooks
Slings
Vehicle lifts
Stairlifts
It also involves all lifting accessories, which are employed to attach the load to lifting equipment, such as chains, rope slings, Hooks, Eyebolts, Spreader Beams etc.