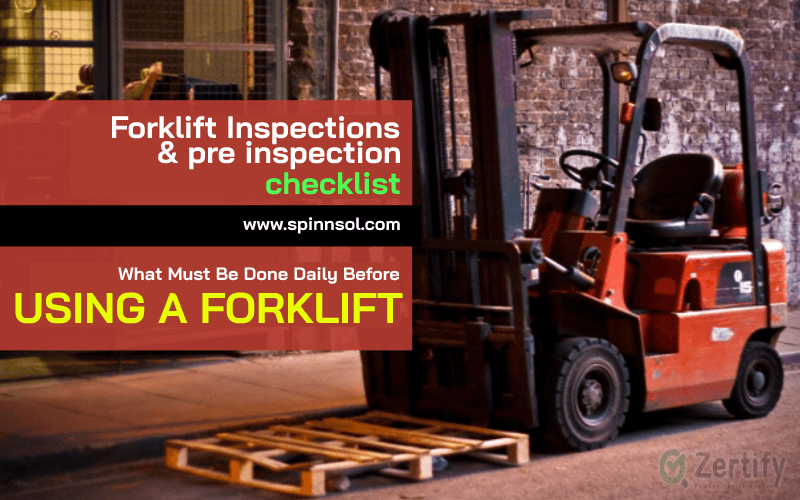 Daily forklift inspections are essential to assuring the forklift is safe to use and saves time and money. Operating and handling a forklift truck needs consistent maintenance and inspection to ensure safety without jeopardizing productivity or efficiency in the workplace. There are several potential points of failure on forklift trucks short and long term, which is why daily inspections and periodic repair work are a vital part of operating a forklift.
Not only does a robust inspection ensure on-site safety, but it upholds the fleet of forklift trucks in optimal condition for more extended, as it catches any troubles before they develop into severe faults. So what must be done daily before using a forklift? A pre-start or pre inspection safety check should be conducted every time an operator operates a different industrial lift truck and at the commencement of each shift. This article will examine what must be done daily before using a forklift to assure it is secure to operate and in fine condition moving forward.
Forklift operators employ industrial trucks to lift and move hefty loads. To operate a forklift, nevertheless, you must be certified. This Forklift operator certification involves various days of classroom and hands-on internship, further passing an exam. The Occupational Safety Health Administration (OSHA) requires forklift operators to be authorized before making use of a lift truck, forklift, or warehouse product. Forklift certification is mandatory to help reduce the number of injuries due to unsafe operation of equipment in the workplace. With the aid of Forklift Inspection & Certification software one can efficiently optimize all their lifting inspection according to LOLER and expand their business.
Read more on OSHA Forklift Inspection Requirements
Things to Review Daily Before Operating a Forklift
There are some forklift checks that you should accomplish before you get into the forklift to assure that no defects or problems have developed. Inspecting the engine oil levels is the right place to begin because you will presumably notice an oil puddle underneath the forklift if there is an issue. Oil levels should always be inspected to make sure it is at an appropriate level, as this will optimize engine output and minimize problems such as wear and tear.
Another level to check before commencing out on your pallet truck is fuel. Make sure it is well-filled to keep the catalytic converter operating smoothly and stop engine stalling as this will improve the lifespan of the engine block. Getting into the practice of reviewing and topping up fuel or oil levels can avert minor damage and deliver a more efficient engine output.
One final visual pre inspection is to check all of the dials for alerting messages. This has things like brake indicators, lights, and engine sensors. Making sure there are no alert messages can preserve time and guarantee the forklift truck is secure to use.
Here we will be providing the complete pre-start safety forklift checklist should include.
Pre Inspection Forklift Checklist
1. Visual Pre-Start Forklift Checklist
1.a) Warehouse Workspace & Forklift Exterior
Before you set foot on your forklift and start operating it, you should monitor your workplace area and forklift exterior. Make sure to examine for the subsequent things:
Check your forklift system for any dents, broken parts, or cracks.
Check that the floor of the warehouse is transparent from objects that may get in the way.
You should also check overhead to make certain there are no obstacles that could provoke an accident.
1.b) Tyres
It is vital to inspect your tyres before you get behind the wheel. As poorly inflated or flat tires can impact how well the brakes work and cause an accident.
Review your forklift tyres for extreme wear.
Assure there is no impairment such as cuts or gouges.
Check the tyre pressure and that they are suitably inflated.
1.c) Forks
Check that the forks are not distorted or cracked.
Locking pins are in place.
1.d) Fluids
Assure that the forklift is on an even surface before inspecting your fluids.
Inspect your oil, hydraulics, water and coolant.
Check for any leaks under the forklift.
1.e) Battery
Confirm the battery is fully charged
There is no damage, uncovered wires or loose connections.
2. Forklift Operation Pre-Start Checklist
2.a) Controls
Once you start your forklift, review your dash control panel and confirm all lights and gauges are functioning correctly.
Assure there are no unusual noises.
2.b) Brakes
Inspect the foot brake pedal holds and the unit stops smoothly.
Check the parking brake.
Also review the dead man seat brake holds when you wake from your seat.
2.c) Tilt and Lift mechanism
Review the tilt mechanism that is pushing smoothly by tilting the mast.
Inspect the lift mechanisms are working by raising and lowing to forks to max height.
Check attachments such as chains and cables.
Other controls to check
The seatbelt is performing reliably.
Brake pedal and parking brakes.
Reverse buzzer and horn.
Headlights and warning lights.
Steering shifts smoothly.
For gas-operated forklifts, check the gas levels are fine and there is no impairment to the cylinder.
Capacity load plate is fitted and legible.
Operators' manual and logbook are present.
Zertify is the leading Testing Inspection & Certification Software provider that helps to easily monitor and implement all elements of the LOLER Inspection. Set up Demo to enhance all the features of Forklift inspection Software..